On coinmarketcap, 1INCH is placed 87th in terms of market capitalization, with a market dominance of 0.08 percent. 1INCH is presently trading at $2.42 as of this writing. The price of the coin has climbed by around 10% in the last 24 hours. The day's high and low marks are approximately $2.52 and $2.20, respectively. The daily trade volume, on the other hand, increased by roughly 360 percent in a single day.
Although the market has stabilized and few currencies have gained, 1INCH has demonstrated strength and upward growth today. In October of 2021, 1INCH hit an all-time high of almost $7.20. 1INCH formed a low throughout the decline and plummeted to $1.994 in December. The coin, like many others, demonstrated reversal and was soon trading above the lowest low it had formed. This month, we saw a 0.75 percent gain, which means there has been no obvious change.
The entire supply of 1INCH tokens is around 201k, with roughly all of them in circulation. OKEx, Binance, and KuCoin are just a few of the exchanges where you can buy 1INCH.
Technical Analysis – 1inch (1INCH)
Moving towards the technical analysis, the price n the monthly time frame has created a famous pattern which is double top, and the price has rapidly rejected and fallen off. this gives an idea that price is short bias on higher time frame.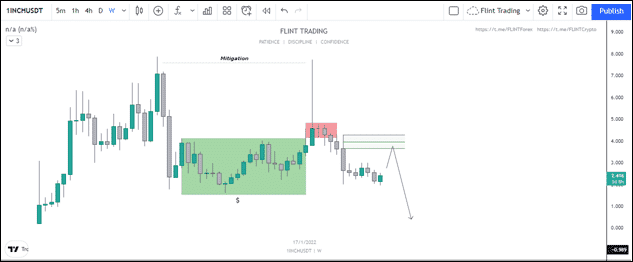 Moving down to the weekly timeframe, the price was in a phase of accumulation, it did a manipulation to the upside, mitigated the order block, and came back within the range. Now as there is a lot of liquidity below that consolidation can drive the price downwards. Moreover, the third phase of AMD is likely to occur as the first two phases have already unfolded. an ideal entry would be the nearest hidden supply zone, which is within the wick.
Price Prediction
1INCH has been one of the market's most optimistic cryptocurrencies. Even on red days, the price has increased a lot. According to wallet investor, 1INCH is a bad investment and investors are going to lose their money on this. According to their estimates, 1inch is supposed to reach a value of $1.664 in a one-year time frame. Traders on the other hand are quite optimistic about the movement and think that soon it would be trading above the old all-time high.