The video game industry is a large, fast-growing sector that still has significant expansion potential. Companies that continue adapting to players' demands are well-positioned to deliver great returns for shareholders. We bring you the five top gaming stocks to buy in 2023 that will give you high returns in the coming years.
The top gaming companies have benefited from the strong surge in demand during the COVID-19 pandemic. Games stocks' impressive performances prove that video gaming is a resilient and consistently growing industry.
More and more players are joining the video gaming stream. Even game developers are facing different challenges to fulfill the needs of this demanding industry.
We will be going through the five best games stocks to buy this year.
What Are Gaming Stocks?
Gaming stocks encompass companies involved in various aspects of the gaming industry, including game development, publishing, hardware manufacturing, and esports. These dynamic enterprises navigate the exhilarating terrain where technology meets entertainment.
Think of the different gaming stocks to buy as gatekeepers to virtual realms, their success is intertwined with the booming gaming market's growth.
From renowned game studios crafting immersive experiences to hardware giants fueling cutting-edge gaming devices, the gaming stock universe is brimming with opportunity.
By investing in top gaming stocks, investors can potentially ride the wave of this thriving industry, capitalizing on trends like mobile gaming, virtual reality, and the rise of esports.
What Types of Companies are Considered Gaming Stocks?
When diving into the captivating realm of gaming stocks, it's crucial to understand the diverse array of companies that fall under this exciting investment category.
From game developers to hardware manufacturers, many enterprises contribute to the expansive landscape of gaming stocks. Let's take a closer look at the types of companies considered top gaming stocks:
Game Developers

These creative powerhouses bring virtual worlds to life, designing captivating games that enthrall millions of players. Companies like Electronic Arts (EA) and Activision Blizzard (ATVI) are prominent players in this space.

Publishers

Publishers play a crucial role in bringing games to the by overseeing distribution, marketing, and monetization. Examples include Take-Two Interactive (TTWO) and Ubisoft Entertainment (UBI).

Hardware Manufacturers

Gaming's immersive experience is made possible by hardware giants like Sony (SNE), Microsoft (MSFT), and NVIDIA (NVDA), who develop consoles, graphics cards, and other gaming devices.

Esports Organizations

With the explosive growth of competitive gaming, esports organizations like Tencent Holdings (TCEHY) and Cloud9 (C9) have emerged as influential entities, capitalizing on the rapidly expanding esports market.
What's an eSports company?
When it comes to the top gaming stocks, one dynamic category has been steadily gaining momentum: eSports companies.
With the meteoric rise of competitive gaming, these enterprises have carved out a unique space in the gaming industry.
An eSports company focuses on organizing and promoting competitive video game tournaments and leagues, providing a platform for professional gamers to showcase their skills.
These companies operate as event organizers, media broadcasters, talent agencies, and team owners, fostering the growth and professionalization of eSports.
Top gaming stocks in the eSports sector include influential players such as Tencent Holdings (TCEHY), the parent company of Riot Games and owner of League of Legends, and Activision Blizzard (ATVI), which operates the Overwatch League.
These companies essentially capitalize on the booming eSports market, which attracts a massive global audience and offers substantial sponsorship and advertising opportunities.
Types of Companies in the Gaming Industry
When an investor first considers which game stocks to buy they discover that the industry contains several different types of companies related to gaming in one way or the other. Some of the most important among these are discussed below:
Console Providers

Console providers are the cornerstone of the gaming industry, offering the hardware necessary to power immersive gaming experiences. Companies like Sony, Microsoft, and Nintendo have established themselves as leading players in this space.

These industry giants consistently innovate and release cutting-edge gaming consoles, captivating gamers with their technological advancements. They tap into the ever-growing demand for high-quality gaming platforms and cutting-edge technology.

Video Game Publishers

Video game publishers are the creative minds behind the development, marketing, and distribution of video games. They work closely with talented game developers to bring captivating titles to the market.

Investing in video game publishers like EA, Activision Blizzard, and Ubisoft lets you participate in the success of popular game franchises and tap into the thriving global gaming community.

Hardware Providers

Hardware providers in the gaming industry specialize in manufacturing components and peripherals that enhance the gaming experience. These companies offer a wide range of products, including graphics cards, processors, and gaming accessories

Investing in hardware providers like NVIDIA and AMD benefits from the increasing demand for cutting-edge gaming hardware and the constant quest for better performance.

Accessories Providers

Gaming accessories have become an integral part of the gaming experience, offering comfort, convenience, and enhanced gameplay. From gaming headsets to controllers and gaming chairs, accessory providers cater to the needs and preferences of gamers.

Investing in accessory providers like Logitech, Razer, and Corsair taps into the expanding gaming peripherals market and the growing trend of customization among gamers.
What Qualifies A Gaming Company?
When it comes to exploring the world of investing in top gaming stocks, it's important to first understand what qualifies as a gaming company.
Simply put, a gaming company is an organization that focuses on the creation, development, publishing, and distribution of video games. These companies can range from large multinational corporations to smaller independent studios.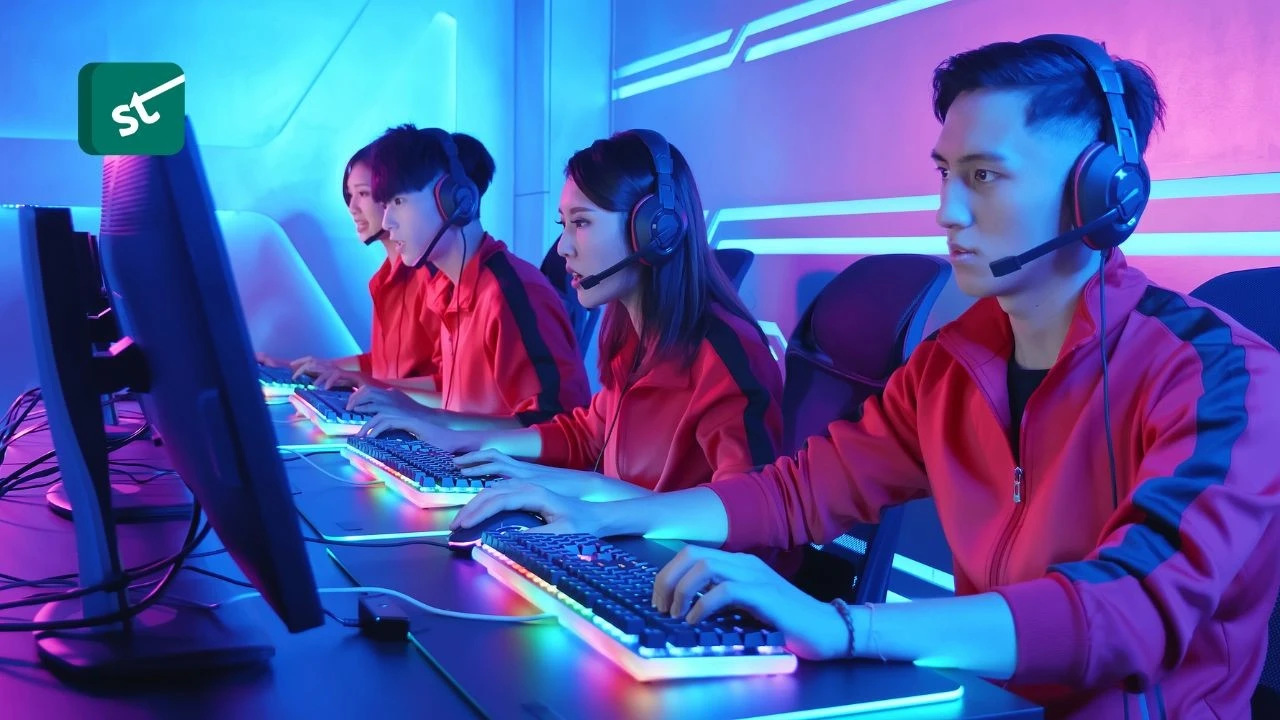 Gaming companies may produce games for various platforms such as consoles, PCs, mobile devices, or even virtual reality. What sets them apart is their dedication to the art and science of interactive entertainment.
From blockbuster titles to indie gems, these companies harness the passion of developers, designers, artists, and storytellers to create immersive experiences that captivate millions of gamers worldwide.
So, if you're on the lookout for the top gaming stocks to invest in, keep an eye out for these dynamic companies shaping the future of interactive entertainment.
Advantages of Video Game Stocks
There are a number of very compelling advantages to video game stocks that have drawn savvy investors to the eyeing opportunities of the top gaming stocks. These are discussed below:
Explosive Growth Potential

Invest in top gaming stocks to capitalize on the industry's remarkable growth and tap into potential high returns.

Global Reach

Benefit from the gaming industry's worldwide popularity and diverse market as it transcends geographical boundaries.

Diversification

Invest in various gaming segments for risk mitigation and to capitalize on different growth areas within the industry.

Resilience to Economic Cycles

Gaming stocks tend to fare better during economic downturns as people seek entertainment and leisure activities.

Monetization Models

Diversified revenue streams, including DLC, in-game purchases, subscriptions, and advertising, contribute to long-term income potential.

Technological Innovation

Gaming industry drives technological advancements, offering investment opportunities in VR, AR, cloud gaming, and AI developments.
Top Gaming Stock Picks
Zynga Inc. (ZNGA)
Zynga (ZNGA) is a well-known mobile-focused video game developer and publisher. The company started with browser-based games on Facebook. ZNGA is swiftly improving its sales and earnings as a result of its ability to monetize its core franchises.
Zynga's recent string of successful acquisitions is also driving its strong financial performance. During the third quarter of 2021, ZNGA reported reduced losses, improved revenues, and improved control over expenses.
Zynga's recent quarter revenue increased by 40% to $707.7 million. While the net loss narrowed 66% to $41.7 million, compared to the same quarter last year.
While revenues from its hyper-casual gaming platform, Rollic, reported its best-ever third-quarter bookings of $668 million.
Zynga is planning to integrate non-fungible tokens and blockchain technology. Zynga plans to develop games from inception that are built with NFTs as part of the core gameplay loop.
To accommodate the NFT gaming space, ZNGA has appointed Matt Wolf as the company's vice president of blockchain gaming.
Apart from that, ZNGA's recent string of successful acquisitions is also driving its strong financial performance. The company has bought development studios in order to bolster both its development resources and its portfolio of titles.
ZNGA stock looks exciting as the company continues to diversify its functions in the gaming sector. BTIG Research has rated the ZNGA Games stocks as a buy with a price target of $10.
Electronic Arts Inc. (EA)
Electronic Arts (EA) is one of the world's largest independent video game publishers and owner of key franchises such as Madden, FIFA, and Battlefield. EA is making a play for the industry's leadership position. The video game developer's second-quarter earnings report showed accelerating growth.
In its second quarter, EA reported record revenues at $1.83 billion, up twofold YoY. While the earnings grew 62% year over year to $1.02 per share.
Net bookings surged 103.4% year over year to $1.85 billion, better than management's guidance of $1.725 billion.
EA's outcomes were driven mostly by subscription services. The company has a dominant position in the sports niche through franchises like FIFA and Madden.
EA stock fundamentals look strong as well with the improving balance sheet. The rise in quarterly outcomes is a pretty bullish indicator for the stock going forward.
Analyst John Freeman projects sustained double-digit revenue growth for EA through at least 2025. EA is taking advantage of improving VR technology and next-generation consoles.
VR games should also continue to gain mainstream traction.
Electronic Arts have a brand value due to its diversified portfolio. That puts EA in a dominant position in the market. EA's FIFA is considered to boost its sales in the coming years.
Electronic Arts expects bookings to grow 23% year over year to $7.6 billion in the coming period. Raymond James and Oppenheimer have reiterated EA games stocks as a buy with the price of $185 and $170, respectively.
Take-Two Interactive Software (TTWO)
Take-Two Interactive Software (TTWO) is a video game publisher and owner of key franchises that include Grand Theft Auto, Red Dead Redemption, and Borderlands. TTWO is one of the leading names in the gaming sector.
Rockstar Games, a publishing label of Take-Two Interactive Software, recently announced the availability of the Grand Theft Auto: The Trilogy – The Definitive Edition on gaming consoles. GTA: The Trilogy has been a long-awaited game for GTA enthusiasts.
The physical release of The Trilogy is expected on December 7, 2021. That's big news for TTWO before heading into 2022.
Take-Two Interactive delivered a strong quarterly result in the last reported quarter of 2021. The company's net booking, up 3% YoY to $985, surpassed management expectations during the latest quarter.
It has a deep pipeline of new releases that should have an effect starting in fiscal 2023. While bookings and operating cash flow are expected to be down this fiscal year, management expects bookings to return to growth in fiscal 2023, along with record profits.
Compared to EA stock, TTWO might be a bit risker in games stocks due to its smaller portfolio of games and its heavy reliance on Grand Theft Auto.
However, Take-Two's first-person shooter games should benefit from advanced gaming hardware and more computationally intense rendering capabilities.
While the revival of GTA would also boost the earnings in the coming quarters.
SciPlay Corporation (SCPL)
SciPlay Corporation (SCPL) is a well-known developer of social games for mobile and web platforms across the globe.
Some of the most widely played games of SciPlay include social casino games like Jackpot Party Casino and casual games like MONOPOLY slots.
Compared to other gaming stocks that we mentioned earlier, SCPL is relatively a small-cap stock. But it has the potential to make big gains with strong growth ability.
Despite lower revenues, the company improved its net income to $37 million, compared to $ $35.1 million in the prior-year period.
That's due to lower general and administrative expenses, partially offset by higher depreciation and amortization, and R&D.
There were quite a few key highlights from the last quarter. The launch of SCPL's newly redesigned Quick Hit is gaining traction and has already soared over 30% since June 2021.
Moreover, SciPlay's Gold Fish Casino delivered another exceptional quarter in the third quarter and has huge momentum going into the fourth quarter.
You need to watch SCPL stock closely and invest when it's around its major support zone. It being of the best gaming stocks to buy and will surely give you massive returns going forward.
Huya Inc (HUYA)
Huya (HUYA) is an electronic gaming company operating game live streaming platforms in China. The company's platforms allow broadcasters and viewers alike to interact with each other during the live stream.
That also broadcasts other entertainment content like talent shows and anime.
HUYA stock is trading around its 52-week lows and we can see the stock pulling back in the earlier 2022. The quarterly results continue to be impressive.
However, the cancellation of the merger deal with DouYu International Holdings has put investors on hold. Previously, HUYA had agreed to acquire DouYu, however, the deal wasn't able to achieve completion due to SAMR's antitrust review.
Apart from that, if we look at HUYA's quarterly performance, it has been impressive. The total net revenues during the third quarter of 2021 increased by 5.7% to $461.8 million, compared to the same period of 2020.
The increase in revenues was due to robust growth in mobile users. Based on HUYA's comprehensive content offerings, strong operational capabilities, and continued promotion efforts, average mobile monthly active users increased by 14.7% to 85.1 million.
HUYA stock has an average price target of almost $11.50. But we can see the HUYA games stocks grow with the increase in mobile gaming and HUYA's improving outcomes.
List of Gaming Stocks to Consider
NVIDIA Corporation (NVDA)
Tencent Holdings Limited (TCEHY)
Sony Group Corporation (SONY)
Activision Blizzard, Inc. (ATVI)
NetEase, Inc. (NTES)
Nintendo Co., Ltd. (NTDOY)
Sea Limited (SE)
Roblox Corporation (RBLX)
NEXON Co., Ltd. (NEXOF)
BANDAI NAMCO Holdings Inc. (NCBDY)
Unity Software Inc. (U)
DraftKings Inc. (DKNG)
Logitech International S.A. (LOGI)
GameStop Corp. (GME)
Sega Sammy Holdings Inc. (SGAMY)
Playtika Holding Corp. (PLTK)
Ubisoft Entertainment SA (UBSFY)
CD Projekt S.A. (OTGLY)
Corsair Gaming, Inc. (CRSR)
Nexters Inc. (GDEV)
NeoGames S.A. (NGMS)
PLAYSTUDIOS, Inc. (MYPS)
DoubleDown Interactive Co., Ltd. (DDI)
Inspired Entertainment, Inc. (INSE)
Gravity Co., Ltd. (GRVY)
Sohu.com Limited (SOHU)
Skillz Inc. (SKLZ)
Enthusiast Gaming Holdings Inc. (EGLX)
Cheetah Mobile Inc. (CMCM)
Snail, Inc. (SNAL)
What are the Risks of Investing in Gaming Stocks?
When it comes to investing in the gaming industry, there are undoubtedly exciting opportunities for growth and potential profits. However, it's crucial to acknowledge the risks associated with gaming stocks before diving in headfirst.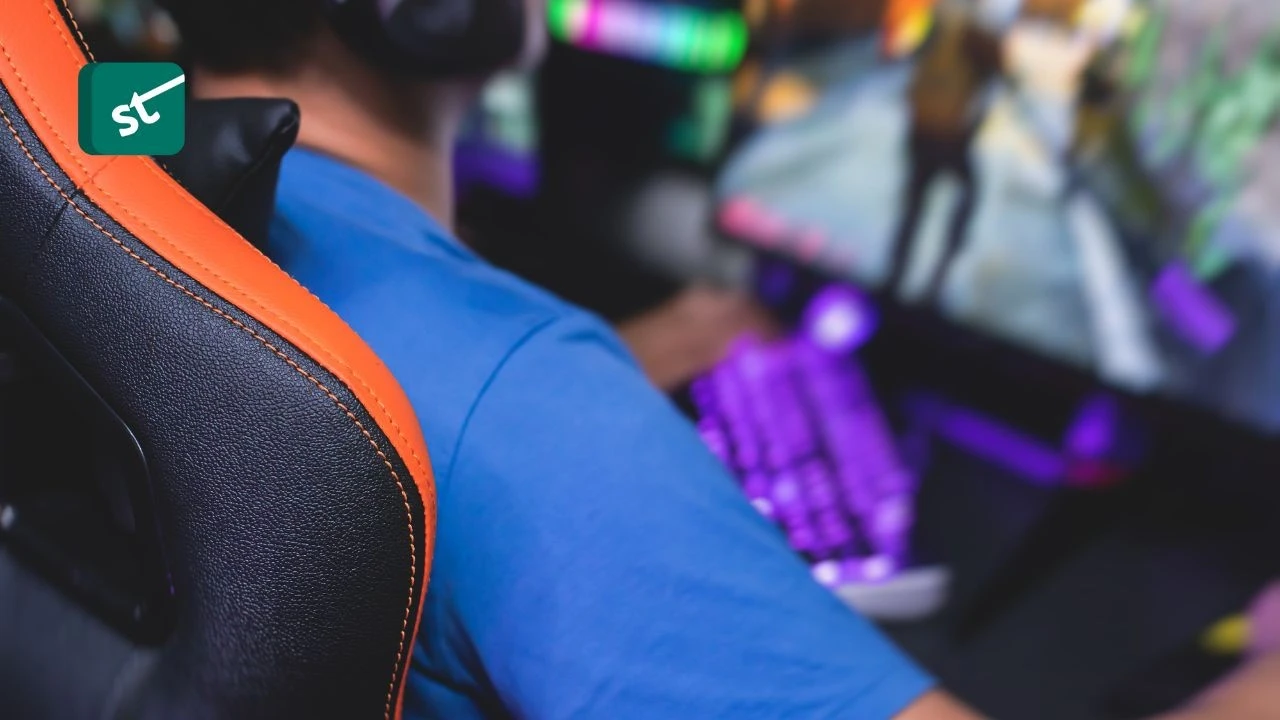 Intense Competition

The gaming industry is highly competitive, with new entrants emerging constantly. This fierce competition can result in rapid shifts in market dynamics, making it challenging to predict which companies will maintain their dominance.

Susceptibility To Technological Advancements

As the industry evolves, new technologies and platforms could render current gaming systems obsolete, impacting the market value of companies heavily invested in older technologies.

Fast Changing Trends

The gaming industry is influenced by consumer preferences and trends, which can change swiftly. If a company fails to adapt or deliver innovative experiences, it risks losing its audience and market share.
How to Invest in Gaming Stocks
Investors seeking out top gaming stocks have the opportunity to choose the approach that aligns with their investment goals and risk appetite and embark on a journey to capture a piece of the thriving gaming industry.
Discussed below are the most popular routes to investing in the gaming industry:
CFDs On Gaming Stocks

If you're seeking flexibility and the potential for higher returns, Contract for Differences, or CFDs on gaming stocks can be an exciting option. With CFDs, you don't actually own the underlying shares but speculate on their price movements.

CFDs are basically a way to profit from both rising and falling markets, making them an appealing choice for agile investors in the gaming markets.

Stocks

Investing directly in individual gaming stocks can offer a more traditional approach for long-term investors. By carefully researching and selecting top gaming stocks, you can become a part-owner of companies shaping the gaming landscape.

After figuring out where to buy gaming stocks, consider factors like revenue growth, market share, and upcoming game releases to make informed investment decisions.

Exchange Traded Funds in Gaming Stocks

For those seeking diversified exposure to the gaming industry, investing in ETFs can be a convenient and efficient strategy. Gaming-focused ETFs typically comprise a basket of stocks from various gaming companies.

This approach helps spread risk across multiple companies and provides an opportunity to benefit from the overall growth of the gaming sector.
How To Buy Gaming Stocks
If you're looking to invest in the exciting world of gaming stocks, you're in for a thrilling ride. The gaming industry has been booming, and there are plenty of opportunities for investors to join in on the action. But you might wonder: how to buy gaming stocks?
Let's break it down into practical steps.
Educate Yourself About Gaming Stocks

First, educate yourself about the market and the top gaming stocks available. Research reputable companies that have a strong track record in the industry. Look for financial news and analyst reports to gather insights.

Pick A Suitable Brokerage Platform

Next, we look into where to buy gaming stocks from. For that, choose a reliable online brokerage platform that offers access to the stock market. Open an account, complete the necessary paperwork, and fund your account.

Finalize Your Gaming Picks

Once your account is set up, search for the gaming stocks to buy. Review their financials, growth prospects, and market trends.

When you're ready, place an order to buy the stocks at the current market price or set a specific price at which you'd like to purchase.

Monitor Performance

Keep an eye on your investment and stay informed about any news or updates that may impact the gaming industry. Remember, investing involves risks, so it's important to diversify your portfolio and consult with a financial advisor if needed.
How to Start Trading Gaming Stocks
Trading gaming stocks in the short term can be an exciting endeavor for investors looking to capitalize on the dynamic gaming industry. While it's important to note that short-term trading involves higher risks, there are strategies to navigate this space effectively.
Firstly, staying updated with industry news and developments is crucial. Gaming trends, new releases, and technological advancements can significantly impact stock prices. Conduct thorough research to identify potential opportunities and risks.
Technical analysis plays a vital role in short-term trading. Pay attention to key indicators like moving averages, relative strength index (RSI), and volume patterns to gauge stock momentum and make informed decisions.
Setting clear entry and exit points is essential. Develop a trading plan with predefined profit targets and stop-loss levels to manage risk and avoid impulsive decisions.
Finally, remember that diversification is key. Consider a mix of gaming stocks to buy across different segments, such as game developers, hardware manufacturers, and streaming platforms, to spread your risk.
Trends in the Video Game Industry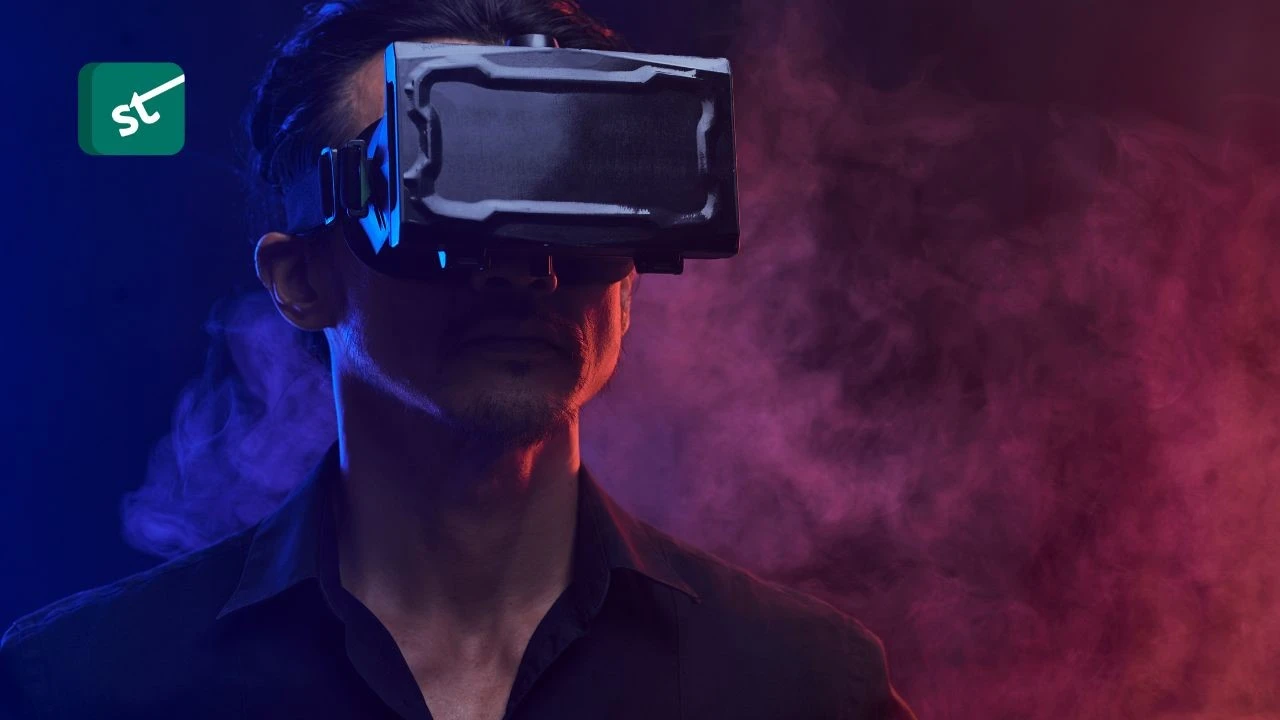 When looking to invest in top gaming stocks, one can follow a number of routes based on the growing trends the industry has been witnessing. These are discussed below as follows:
Esports: The Rise of Competitive Gaming:

Invest in gaming stocks associated with esports teams and leagues to ride the wave of explosive growth in competitive gaming.

Cloud Gaming: Gaming Without Boundaries:

Embrace the paradigm shift in gaming by investing in companies leading the charge in cloud gaming technology.

Mobile Gaming: The Pocket-Sized Revolution:

Capitalize on the dominance of mobile gaming by investing in successful mobile game developers and publishers.

Virtual Reality (VR) and Augmented Reality (AR):

Immerse yourself in the potential of VR and AR by investing in gaming stocks focused on these innovative technologies.

Digital Distribution and In-Game Purchases:

Align your investments with the digital age by exploring gaming companies with strong digital distribution platforms and in-game purchase opportunities.
Conclusion
To wrap it up, investing in gaming stocks is an enticing venture that can reward both experienced investors and newcomers. The gaming industry is on an exciting trajectory, riding the waves of technological advancements and changing consumer preferences.
While gaming stocks aren't impervious to market fluctuations, the surge in digital transformation, the booming e-sports scene, and the ever-expanding virtual reality frontier all hint at a resilient future.
So, seize the moment, align your investments with your aspirations, and embark on an exhilarating journey into the realm of gaming stocks. Trust your instincts, keep a long-term perspective, and relish the potential financial rewards in this ever-evolving landscape.
Frequently Asked Questions
Are Gaming Stocks a Good Investment?
Gaming stocks can be a good investment due to the growing gaming industry and increasing demand for interactive entertainment, but their performance is subject to market fluctuations and individual company performance.