The video game industry is a large, fast-growing sector that still has significant expansion potential. Companies that continue adapting to players' demands are well-positioned to deliver great returns for shareholders. We bring you the five best games stocks to buy before 2022 that will give you high returns in the coming years.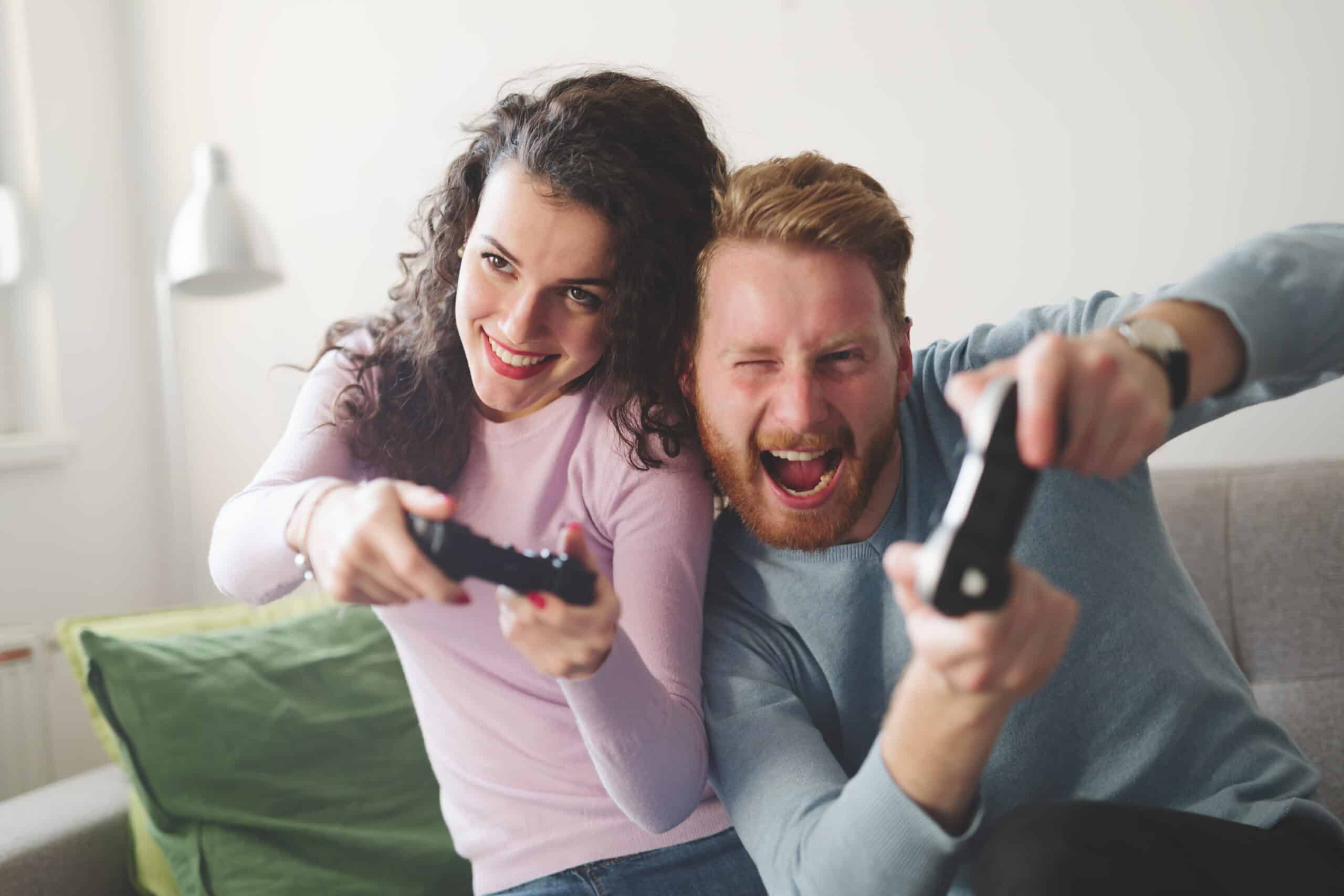 The top gaming companies have benefited from the strong surge in demand during the COVID-19 pandemic. Games stocks' impressive performances prove that video gaming is a resilient and consistently growing industry. More and more players are joining the video gaming stream. Even game developers are facing different challenges to fulfill the needs of this demanding industry.
We will be going through the five best games stocks to buy this year.
[optin-monster-inline slug="zm3dhqtrewum83ga4kr4″]
Zynga Inc. (ZNGA)
Zynga (ZNGA) is a well-known mobile-focused video game developer and publisher. The company started with browser-based games on Facebook. ZNGA is swiftly improving its sales and earnings as a result of its ability to monetize its core franchises.
Zynga's recent string of successful acquisitions is also driving its strong financial performance. During the third quarter of 2021, ZNGA reported reduced losses, improved revenues, and improved control over expenses.
Zynga's recent quarter revenue increased by 40% to $707.7 million. While the net loss narrowed 66% to $41.7 million, compared to the same quarter last year. While the revenues from its hyper-casual gaming platform, Rollic, reported its best-ever third-quarter bookings of $668 million.
Zynga is planning to integrate non-fungible tokens and blockchain technology. Zynga plans to develop games from inception that are built with NFTs as part of the core gameplay loop. To accommodate the NFT gaming space, ZNGA has appointed Matt Wolf as the company's vice president of blockchain gaming.
Apart from that, ZNGA's recent string of successful acquisitions is also driving its strong financial performance. The company has bought development studios in order to bolster both its development resources and its portfolio of titles.
ZNGA stock looks exciting as the company continues to diversify its functions in the gaming sector. BTIG Research has rated the ZNGA games stocks as a buy with a price target of $10.
Electronic Arts Inc. (EA)
Electronic Arts (EA) is one of the world's largest independent video game publishers and owner of key franchises such as Madden, FIFA, and Battlefield. EA is making a play for the industry's leadership position. The video game developer's second-quarter earnings report showed accelerating growth.
In its second quarter, EA reported record revenues at $1.83 billion, twofold YoY. While the earnings grew 62% year over year to $1.02 per share. Net bookings surged 103.4% year over year to $1.85 billion, better than management's guidance of $1.725 billion. EA's outcomes were driven mostly by subscription services. The company has a dominant position in the sports niche through franchises like FIFA and Madden.
EA stock fundamentals look strong as well with the improving balance sheet. The rise in quarterly outcomes is a pretty bullish indicator for the stock going forward. Analyst John Freeman projects sustained double-digit revenue growth for EA through at least 2025. EA is taking advantage of improving VR technology and next-generation consoles. VR games should also continue to gain mainstream traction.
Electronic Arts have a brand value due to its diversified portfolio. That puts EA in a dominant position in the market. EA's FIFA is considered to boost its sales in the coming years. Electronic Arts expects bookings to grow 23% year over year to $7.6 billion in the coming period. Raymond James and Oppenheimer have reiterated EA games stocks as a buy with the price of $185 and $170, respectively.
Take-Two Interactive Software (TTWO)
Take-Two Interactive Software (TTWO) is a video game publisher and owner of key franchises that include Grand Theft Auto, Red Dead Redemption, and Borderlands. TTWO is one of the leading names in the gaming sector.
Rockstar Games, a publishing label of Take-Two Interactive Software, recently announced the availability of the Grand Theft Auto: The Trilogy – The Definitive Edition on gaming consoles. GTA: The Trilogy has been a long-awaited game for GTA enthusiasts. The physical release of The Trilogy is expected on December 7, 2021. That's big news for TTWO before heading into 2022.
Take-Two Interactive has delivered a strong quarterly result in the last reported quarter of 2021. The company net booking up 3% YoY to $985, surpassed management expectations during the latest quarter.
It has a deep pipeline of new releases that should have an effect starting in fiscal 2023. While bookings and operating cash flow are expected to be down this fiscal year, management expects bookings to return to growth in fiscal 2023, along with record profits.
Compared to EA stock, TTWO might be a bit risker in games stocks due to its smaller portfolio of games and its heavy reliance on Grand Theft Auto. However, Take-Two's first-person shooter games should benefit from advanced gaming hardware and more computationally intense rendering capabilities. While the revival of GTA would also boost the earnings in the coming quarters.
SciPlay Corporation (SCPL)
SciPlay Corporation (SCPL) is a well-known developer of social games for mobile and web platforms across the globe. Some of the most widely played games of SciPlay include social casino games like Jackpot Party Casino and casual games like MONOPOLY slots. Compared to other gaming stocks that we mentioned earlier, SCPL is relatively a small-cap stock. But it has the potential to make big gains with strong growth ability.
Despite lower revenues, the company improved its net income to $37 million, compared to $ $35.1 million in the prior-year period. That's due to lower general and administrative expenses, partially offset by higher depreciation and amortization and R&D.
There were quite a few key highlights from the last quarter. The launch of SCPL's newly redesigned Quick Hit is gaining traction and has already soared over 30% since June 2021. Moreover, SciPlay's Gold Fish Casino delivered another exceptional quarter in the third quarter and has huge momentum going into the fourth quarter.
You need to watch SCPL stock closely and invest when it's around its major support zone. It being of the best games stocks will surely give you massive returns going forward.
Huya (HUYA) Inc:
(HUYA) is an electronic gaming company operating game live streaming platforms in China. The company's platforms allow broadcasters and viewers alike to interact with each other during the live stream. That also broadcasts other entertainment content like talent shows and anime.
HUYA stock is trading around its 52-week lows and we can see the stock pulling back in the earlier 2022. The quarterly results continue to be impressive. However, the cancelation of the merger deal with DouYu International Holdings has put investors on hold. Previously, HUYA had agreed to acquire DouYu, however, the deal wasn't able to achieve completion due to SAMR's antitrust review.
Apart from that, if we look at HUYA's quarterly performance, it has been impressive. The total net revenues during the third quarter of 2021 increased by 5.7% to $461.8 million, compared to the same period of 2020. The increase in revenues was due to robust growth in mobile users. Based on HUYA's comprehensive content offerings, strong operational capabilities, and continued promotion efforts, average mobile monthly active users increased by 14.7% to 85.1 million.
HUYA stock has an average price target of almost $11.50. But we can see the HUYA games stocks grow with the increase in mobile gaming and HUYA's improving outcomes.