Loopring coin, potential wise is a great investment for a long time. Observing the monthly time frame gives an idea that the coin has completed a parabolic movement after it was released on Binance, a very common movement in Crypto.
As the price on the Monthly Time frame has rejected from the last strong Demand Zone, where the majority of buyers got in, there is a chance, that price shows another reaction here as well, possibly to form a right shoulder, which would overall make a head and shoulder pattern. The price correctively has tapped into the Demand Zone which in a sense shows that bears are losing strength.
Moving down to the Weekly Time Frame, it can be observed clearly how the price in a retracement is continuously losing momentum. A bearish hammer has formed and that has a good rejection from the demand zone which according to candles anatomy shows a bullish intention. There is FVG left at several spots in the retracement which serves as a magnet for price. So those FVG can drive the price upwards if we see more bulls entering the market.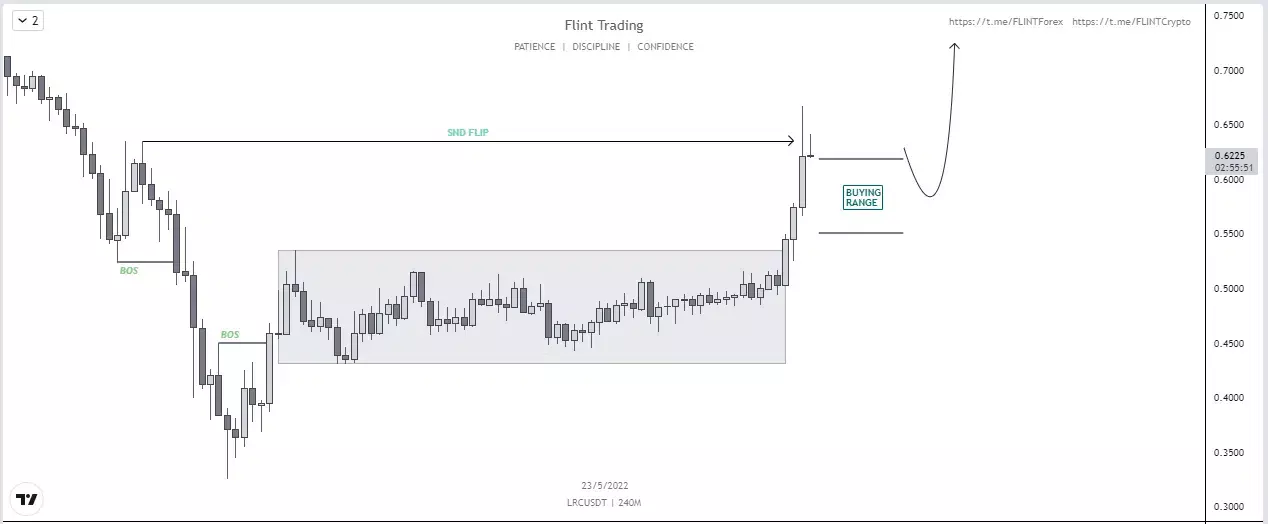 Moving down to the Daily Time Frame, a good amount of volume was seen for the bulls, but seeing it from a market structure point of view, the last structural Lower High is at $0.8591, so unless that gets broken, the price is still bearish. The market structure is the foundation when it comes to trading the financial markets, so other things and confluences have less importance to this. The price is at the discount level and seeing the momentum, the price can push up, but as soon as it gets to a premium range, there will be a chance for sellers to enter again. So any buy is for the short term, macrostructure is to the downside, and one should ride the trend until it no longer is a trend.
Moving down to the 4 Hour Time Frame, things are a bit interesting. A microstructure shift has been observed, the last supply has been flipped which makes the demand in control, as talking about Momentum, the bulls are strong in that. As mentioned, the buy position confluences are stronger at LTF but on HTF the trend is down so these buys are for the short term. The price in recent momentum has left FVG from where one can ride for a Long setup until a structure shift occurs.