On April 13, 2022, Protagonist Therapeutics Inc. (PTGX) filed a notice of the Annual Meeting of Stockholders with the SEC.
The stock while gaining 8.32% in the regular trading session, declined by a huge 31.43% in the after-hours. Thus, after closing the regular session at a price of $25.52, PTGX reached $17.50 per share in the after-hours session.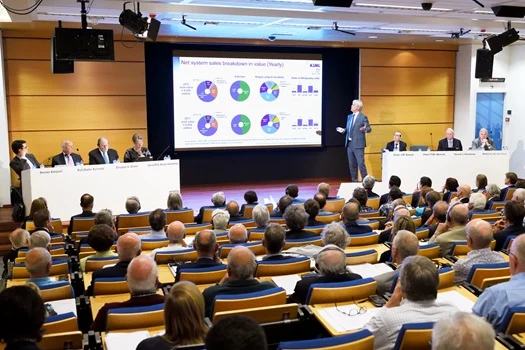 PTGX's Annual Meeting
According to the notice, the company will hold its annual meeting on Thursday, May 26, 2022, at 10:00 a.m. PDT. The purpose of the meeting is the election of Class III nominees, compensation of named executives, frequency of future executive compensation votes, and independent accounting firm for fiscal 2022.
Moreover, the meeting will be held virtually through an online webcast while the record date for the meeting is March 31, 2022.
Market Overview
The global peptides therapeutics market has a bullish rating with growth at a CAGR above 10% forecasted between 2021 and 2028. Peptides have recently seen increasing interest as clinical therapeutics. Being highly tunable molecules, they can be modified and tailored to achieve the desired properties with potent therapeutic effects. Moreover, peptides and derived therapeutics have proven to be very effective for a multitude of diseases like type 2 diabetes, irritable bowel syndrome, and others. Due to the fact that peptides are produced naturally in the human body, peptides and therapeutics based on them are relatively well tolerated. This also means they have fewer side effects. Thus, there is more and more focus on therapeutics based or derived from peptides.
PTGX and its Pipeline Development
The company has various peptide-based chemical entities in different stages of clinical development. These entities are derived from its proprietary technology platform. Some of the entities included in its pipeline are rusfertide, PN-943, and PN-235. New Phase 3 study of rusfertide commenced in Q1 2022, while topline data from Phase 2 study of PN-943 is expected in Q2 2022. PN-235 is under development in plaque psoriasis through sponsorship by Janssen.
Furthermore, the company had a cash balance of $326.9 million at the end of last year. PTGX expects it to be sufficient for funding its operations through 2024.
Conclusion
PTGX stock had a little rough day on Wednesday. While the regular session did witness some gains, the after-hours session was marked by a great decline in the stock. It seems investors are responding not-so-happily to the upcoming annual meeting's agenda.