Theta (THETA) is one of the cryptocurrencies that primarily gained traction in the bull run of 2021. Theta coin has grown by a staggering 2,300% in the yearly window which effectively brought it under the notice of many investors. The cryptocurrency established its all-time high at $15.90. Subsequently, suffering from market retracements but now Theta coin appears to be moving upwards once again. At the time of publication, the cryptocurrency stands at a price level of $10.94. However, the price level of Theta coin has dropped in the daily timeframe and so had the daily trading volume.
Theta (THETA) Technical Analysis
The market sentiment for Theta coin is neutral. Out of the 26 total technical indicators, eight are giving out a buy signal while nine stands in a neutral position, and nine are at a sell position. Both the oscillators and moving averages stand at a neutral position.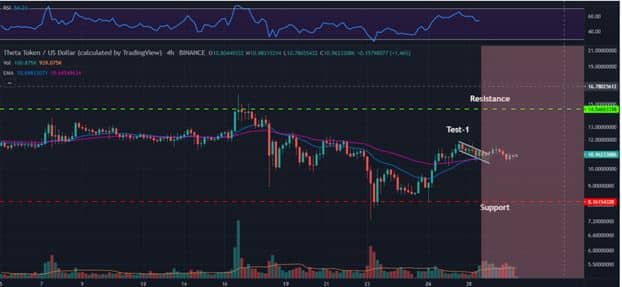 Earlier, a trader had identified Theta coin to be operating inside a descending channel formation. However, the cryptocurrency has broken out of the channel – indicating bullish pressures. Per the trader, Theta coin is facing strong resistance at $14.54 while strong support can be found at $8.16. the cryptocurrency is portraying indecisiveness between bulls and bears as the price continues to move sideways. Upcoming price action will prove to be detrimental for identifying a trend for Theta coin as the market rests on neutral at the moment. The trader is, however, rooting for an upside move and has set the price target at $14.54.
What is Theta coin?
Theta network is designed to make video streaming more efficient by utilizing blockchain technology. Theta transfers the load to its peer-to-peer network in order to reduce load and, hence, increase efficiency. However, Theta Network is not competing with video streaming giants like Youtube and Twitch. Instead, it provides a way for video streaming platforms to increase their efficiency by utilizing Theta network. A video streaming website using Theta Network will have some of its content streamed through the website while others through Theta's peer-to-peer network.
Theta Network is a decentralized and cheaper alternative for video streaming platforms. The network utilizes two tokens. TFUEL – the gas token – is used to pay content providers while THETA is the governance token.