Attaining millionaire status within a decade is a lofty goal. However, this does not stop market participants from aiming for the stars. For those with a decent amount of capital saved up and a strong selection of stocks for their portfolio, this may be within a realistic reach.  In fact, present market conditions present quite a ripe opportunity for this goal to be realized. With present bearish conditions, most stocks in the market have plummeted by varying degrees. As a result, a large number of stocks are presently trading at a discount. Such conditions hold the potential to cause significant growth in the coming years. For market participants that strategically time their investment decisions well, seeing their portfolios rise in value to a million dollars could very well be a possibility. Below, we put forward three great tech stocks that could turn $100,000 into a million dollars, within a decade.
Millionaire Tech Stock #1: Datadog
Datadog Inc (NASDAQ: DDOG) is a critical solutions provider for cloud-scale applications, which offers server monitoring and data analytics services. As a business, the company's offerings have immense demand, especially since the Covid-era institutional shift towards digital platforms. DDOG has evidently been largely successful in strategically positioning itself to meet this demand by structuring itself accordingly.
In the company's Q1 earnings release for 2022, it reported a stunning 80% quarterly revenue growth on a year-on-year basis. Incredibly, DDOG is reporting such tremendous growth figures, despite boasting an annual revenue of almost $2 billion. Such high growth levels are typically seen in companies that report low-level revenue streams.
Moreover, it has also significantly improved its operating profit margins, which presently stand at 20% pro forma. These figures are impressive considering they have been achieved in some of the most testing macroeconomic conditions experienced; The economic fallout from Covid-19 and war disruptions on supply chains have triggered extreme business challenges not observed in decades.
Growth Sustainability
The upward momentum seen with Datadog is far from being a temporary growth spurt. This is evident from its business model which is highly financially sustainable. The Datadog server package, once implemented is permanently embedded as a fixture on the company's IT stack. This delivers a steady stream of revenue to the company which it continues to build upon to increase its earnings. Given its present growth pace, these earnings would be substantial a few years down the line. This revenue stream is further accelerated by the company's innovative product launches, which continue to maximize its business potential. For example, on 24 June 2022, the company announced the launch of the 'Datadog Audit Trail', which reports and audits all server changes for compliance purposes.
These incredible fundamentals, and its robust business model, indicate substantial green flags for investors. An investment of $100,000 in DDOG stock could easily grow to a million dollars within 10 years.
Millionaire Tech Stock #2: ServiceNow
ServiceNow Inc (NYSE: NOW) is another explosive 10x growth stock that is worth considering for the next decade. Tech stocks have generally reacted in different ways to the recent macroeconomic disruptions felt across the market. The enterprise tech category, however, has shown to have flourished despite these wider stresses. ServiceNow in particular stands positioned to make remarkable growth in the coming years.
Where most companies have been conservatively cutting their guidance short, ServiceNow remains ever optimistic about where it is headed. The company, which delivered $5.9 billion in total revenue for 2021, has projected to bring in subscription revenues of over $15 billion by 2026. Even more impressive is its expectations of non-GAAP operating margin, which the company states will top 27% by 2024. Each of these projections is in complete alignment with NOW's consensus estimates. Where the stock is presently trading at $500, the mean analyst estimate is an impressive $630.
Business Growth
ServiceNow stands ready to grow far beyond its immediate projections because of the robustness of what it offers. Its enterprise cloud computing solutions offer value to clients of all sizes and industries. The company's ability to expand upon its customer relations is a primary reason why its stock could reach the skies. With every subsequent quarter, the company increases its total amount of customers that hold an annual contract value of at least $1 million. In the image below, we see that, in the recent quarter, it upped its million-dollar contracts by 56 transactions.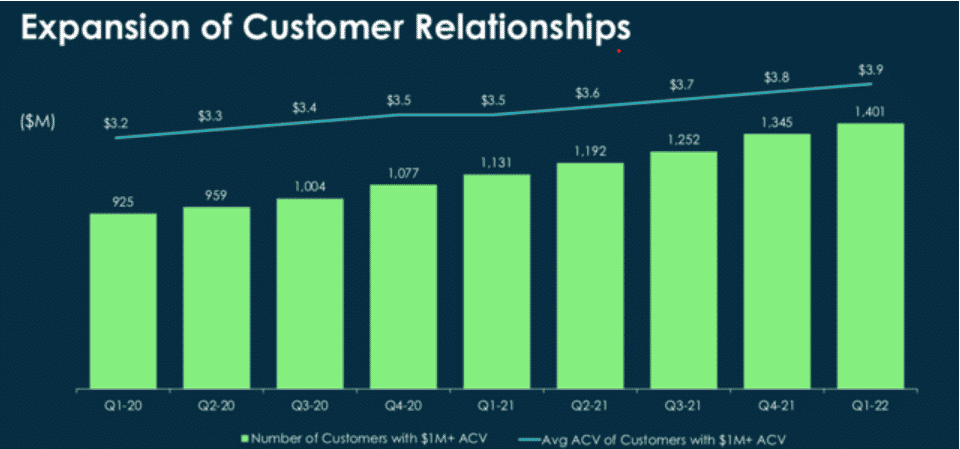 Source: ServiceNow
This growth trend is extremely promising from a long-term standpoint. Not only is the company increasing its million-dollar contracts each year but is also seeing a rise in its average annual contract value. This indicates that the company is penetrating its existing customers, who are happy to enhance their contracts to receive wider enterprise computing services.
For a company catering to a global market, these conditions set ServiceNow up for an exponential growth wave, with the company's services seeing an increasing prominence over each quarter. Analysts expect enterprise solutions to see heightened demand, given companies' efforts to streamline processes and drive down costs. To attain a portfolio size of $1 million in 10 years, there hardly is a better tech option that NOW. This makes it ideal for those seeking millionaire levels of a portfolio.
Millionaire Tech Stock #3: ZScaler
Our final stock recommendation for your quest to turn six figures into seven is the mid-sized US cybersecurity player, ZScaler Inc (NASDAQ: ZS). There are many reasons why our optimism toward ZC is high. One is its resilient performance metrics. Despite not yet turning in a profit, the company's customer base continues to increase and has beyond doubled since its going public in 2018.
ZScaler holds robust partnerships with cloud tech giants such as Microsoft Azure and AWS. It has a platform with a "zero trust" protocol, which eliminates cybersecurity loopholes, by treating even employees and administrators as potential intruders. Since the system is fully cloud-based and does not require hardware installations, it is extremely scalable, with clients able to up their subscription package to cover a wider operational domain. This scalability is the primary reason that the company, in its recent earnings release reported a net retention rate of over 125%. This essentially means that customers are staying and increasing their spending with each subsequent quarter. As a result, ZS holds immense growth potential.
Financial Potential
These conditions point to a staggering revenue growth that continues to accelerate, rather than flatten out.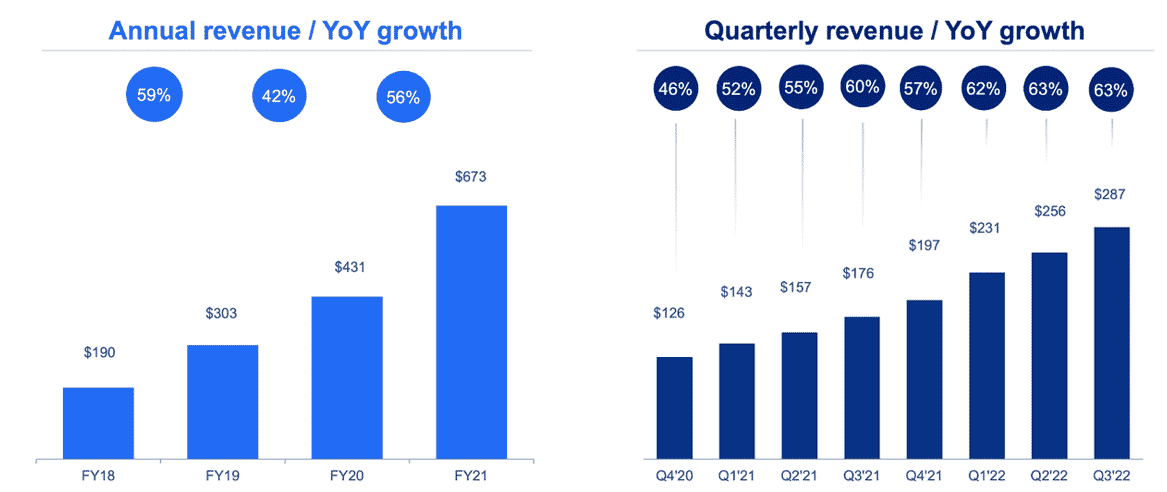 Source: FY22 Q3 Presentation
The trends clearly indicate that this growth wave has just started. Once ZScaler begins reporting profit figures, this trend would see further acceleration and eventually result in business growth through internal financing. ZS is presently down nearly 70%, with no dent in its fundamental earnings trend, which makes the present opportunity ripe to ensure substantial growth in the long term. Therefore, a $100,000 investment in ZS could grow to a million dollars in the 2030s.
Conclusion
Finding the right stock for one's portfolio can be a challenging feat. This is especially the case when holding a specific target in mind, such as 10x capital growth. However, each of the stocks mentioned above is fully capable of delivering these returns within a decade. Due to strengths unique to each of the companies, the present bearish conditions where stocks are trading at a discount make now the ideal time for an investment to yield maximized returns. The stocks selected above stand fully capable to turn you into a millionaire by the 2030s.