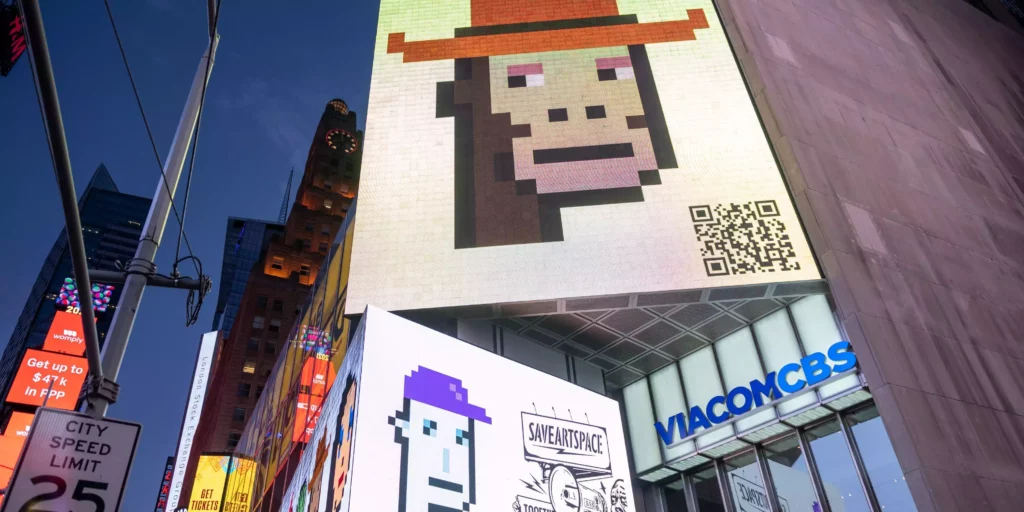 The NFT market experienced a substantial decline this week, with total sales falling almost 11% compared to the prior week. Some of the largest NFTs in the market saw their capitalization fall significantly, with Bored Ape Yatch Club declining by 21%, and Cryptopunk slipping by 19%. This comes as a part of the wider pessimism surrounding the digital assets markets, which has traders hesitant with the anticipation of an interest rate hike by the US Federal Reserve, sometime this week.
According to a recent report by Chainalysis, the lion's share of web traffic in the Oceania region, and in Central and South Asia, relates to non-fungible tokens. This indicates a new milestone that suggests that NFTs are fast dominating the mainstream, and becoming a primary branch of the crypto-sphere, which many initially thought would be a trend soon to die out. Many of these countries are developing economies, yet seem to have recognized the economic and innovative potential that are inherent to NFTs.
The international tourism hot center, Universal Studios has launched an exciting initiative for Halloween involving NFTs. The company has decided to hide several QR codes throughout its parks on Halloween, which can be scanned, and would allow visitors to acquire memorable collectibles in the form of NFTs. The use of NFTs in this manner is highly innovative, and indicates that traditional industries are willing to explore the utility and value that these digital assets offer.
NFTs to Watch
Hedz by Matt Furie
The Hedz by Matt Furie NFT, which was launched just this month has been gaining ground to an impressive degree. With a volume of 677 ETH, and a market capitalization growth of over 580%, the NFT is climbing high amidst wider uncertainty.
These collectibles are the brainchild of the meme world's favorite, Matt Furie, the infamous creator of the 4chan meme, Pepe the Frog. This particular collection features 1000 NFTs of hand-drawn head figures of unique characters that have appropriate names. The chance to own one of these meme-worthy pieces has been sending a storm across the internet, causing enthusiasts to rally up prices, despite the wider uncertainties the NFT market is presently experiencing.
Cool Cats NFTs
Another exciting NFT that is making the rounds is that of Cool Cats. This collection boasts a present trade volume of 311 ETH and has seen overall market capitalization surge by over 900%.
Cats are undoubtedly a favorite amongst folks on the internet, so the craze surrounding this collection hardly comes as a surprise. Cool Cats offer 9,999 randomly generated cat drawings which are curated in a stylistic manner and result in funny and unique cat personalities which are specific to the NFT. Owning a Cool Cat gives one the exclusive privilege of participating in events such as giveaways and raffles.