Which investor does not love a good bargain? Not everyone seeks stocks trading in the thousand-dollar brackets. For some, lower-priced stocks trading under 20 Dollars are ideal to accumulate in anticipation of growth. Stocks of this category are especially ideal for those that do not possess large amounts of cash and are looking to periodically up their stakes with modest savings over time. Through this, even those financially struggling can gain access to the world of stocks in anticipation of capital appreciation over time and dividend payments.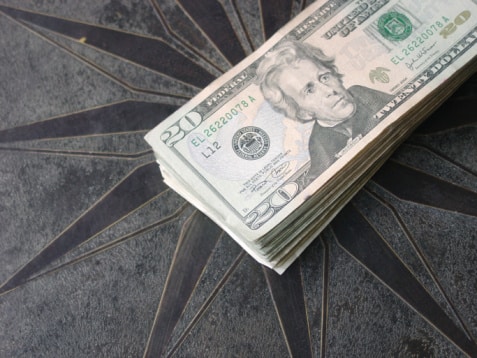 Present bearish market conditions have pushed quite a few once-pricey stocks to levels beneath the $20 mark. In cases of market overreaction, such stocks are ideal to buy, given the heavy discount at which they are presently trading. In light of these opportunities, we bring to you in this article, our list of top 5 stocks you can buy for under 20 Dollars.
Algonquin Power and Utilities
The first stock on our list is Algonquin Power and Utilities (NYSE: AQN). AQN is of the emerging names in the alternate energy industry, bound to go big as a result of the tailwinds supporting the clean energy transition. With a presence in North America, Chile, and Bermuda, the company sees substantial exposure within the western hemisphere.
Given its positioning as a utility company, Algonquin has revenues that stand heavily regulated, making it a safe investment with predictable cashflows. Despite this safety against internal volatilities, AQN has still managed to grow its revenue in the first quarter of 2022, to $735 million, reflecting 16% year-on-year growth.
Another aspect to AQN is its healthy dividend, yielding at over 5.3%, which is typically unheard of for a $14 stock. This feature makes it extremely attractive to investors looking to receive an income from their modest savings. Moreover, its management has committed to a 10% payment increase on an annual basis.
AQN is a safe stock under 20 Dollars, yet one that holds tremendous upside potential. The markets it covers are substantial in the context of the broader clean energy transition. Buying and holding the stock, therefore, offers significant growth exposure, as well as a decent income in the meantime, which only rises with time.
Harmonic Inc
Number two on our list is Harmonic Inc (NASDAQ: HLIT). Harmonic provides software and products that offer solutions for video delivery. It also offers video processing appliances and network management tools.
Given some strong secular tailwinds, as well as the company's impressive performance in recent years, Harmonic is bound to climb high. As a result of the wider push towards digitization across the globe, and the need for more data, the upside potential in the IT realm in general remains substantially high.
Harmonic, through innovation and dynamic flexibility, has strategically played its cards in recent years. Its expansion focused on the markets of Europe, the Middle East, and Africa, as well as in the Asia-Pacific, has delivered to its stellar financial performance, and a robust balance sheet. In just the most recent financial quarter, HLIT saw year-on-year revenue growth of almost 40%. This was in large part driven by the company's expansion towards rural markets.
Similarly, its operating margin has improved to 4%, which is a five-year high for the company, indicating its improvement in efficiency, as it continues to scale upwards
What remains most impressive about HLIT is its ability to sustain much larger operational demand. This is due to its solid financial fundamentals, and robust balance sheet. This can only mean an even more impressive revenue growth trend, and enhanced profitability. In light of the direction the stock is taking, HLIT is bound to see a rise. Cashing in early on this $11 stock would be a prudent investment decision.
Ford Motor Company
The third stock under 20 dollars on our list is a renowned motor vehicle champion, Ford Motor Company (NYSE: F). Ford, being a name so popular in the motor world, surprisingly does not command the same level of hype amongst financial investors. This remains surprising, especially given its electrifying performance, even in comparison to some of its largest peers. For instance, in the second quarter of 2022, Ford Motor reported revenue growth of almost 60% on a year-on-year basis. In comparison, Tesla, which many call the growth king, saw its revenue for the same period rise by a mere 42%.
Similarly, its earnings per share of $2.70, given a share price of over $16 is especially impressive, which puts the company on a number 1 industry ranking, based on the Quant standard. Ford's PE ratio stands at 5.4, which is the lowest amongst auto-manufacturing stocks. In comparison, General Motors stands at a PE figure of 7.1, Honda Motor at 8.4, Ferrari NV at over 40, Toyota at 11, and Tesla at a staggering 110.
On a comparative basis, therefore, Ford stands as the most undervalued car stock out there. The fact that such a renowned name is available for only under 20 Dollars indicates a substantial buying opportunity.
Snap Inc
The fourth stock we present is Snap Inc., (NYSE: SNAP). Snap is the owner of the once social media favorite camera-based application, Snapchat. Reports of the company's declining revenue trend, coupled with bearish market conditions have resulted in its stock taking a heavy beating. SNAP is down by almost 90% in the last 12 months, in its plummet from $80 to a mere $12. Such investor panic is due likely to the wider macroeconomic headwinds that have taken down even giant stocks. Despite this, however, Snap's user metrics remain solid, indicating that market overreaction may have played a role in its price fall. This, therefore, suggests an attractive entry point for those looking to buy the dip.
The core investment motivator for Snap remains in the company's innovation. With significant augmented reality tools in its application, the company stands well-suited to take off in the midst of the metaverse phenomenon. To add, the company has been investing heavily in enhancing and expanding its services within the Snapchat platform, owing to its strong financial position. Snap's annual revenue for 2021 totaled $4.1 billion and is expected to stand at $4.6 billion and $5.4 billion for 2022 and 2023, respectively.
Moreover, the company has publicly announced its commitment to a share repurchase program, worth $500 million. Given its future growth potential, following its overselling, this under-20 dollar stock presents a ripe opportunity for those looking to grab onto this rising trajectory and want to invest in best-value stocks for 2022.
Robinhood Markets Inc
The final stock under 20 dollars on our list is the financial services provider, Robinhood Markets Inc. (NASDAQ: HOOD). The stock is down almost 80% from $70 to a mere $8. However, in early August 2022, HOOD saw double-digit revenue growth, pushing its price up to almost $11. This was triggered by its better-than-expected earnings release for the second-quarter results of 2022. Revenue per user had seen a significant increase, whereas EBITDA loss had been impressively narrowed.
Facing a declining trend of new users, the management was compelled to undertake a massive cost restructuring program, in order to push the company once again in the domain of financial sustainability. The improvement in performance figures indicates the success of this strategic approach. The company has committed to lowering its headcount by 23%, and its operational costs by almost 30%.
Robinhood further stands capable of driving all the necessary changes to restructure to ensure growth and profitability. At present, its cash balance stands at $6 billion, which is equivalent to nearly 70% of the company's market capitalization. This not only allows the company to remain safeguarded against short-term losses but is also a major point of attraction for value investors.
As Robinhood continues to chip away at inefficiencies and streamline itself on the basis of its user trends, the company's profit-earning capability sees further enhancement. Sticking to this path, it is highly likely for HOOD to top the $20 mark among best-value stocks for 2022.
Conclusion
The world of investment offers a wide range of options to choose from. From penny stocks less than a dollar to those trading at thousands of dollars. Often enough though, the investor seeks an affordable stock that is not prone to heavy volatility. Under 20 Dollar Stocks are ideal for this purpose. They are affordable and can be gradually staked up with savings over time. Each of the stocks presented in this article offers exposure to some phenomenal growth trajectories and money makers to those looking to make an entry into the world of investing.