The outbreak of Covid-19 ushered the world into utter chaos, followed by continuous fear. Pharma giants rushed to make a viable vaccine for the virus that was not slowing down despite worldwide mobility restrictions and lockdowns. While developing a vaccine was a challenge in itself, a viable one even more so, and to top it off, commercial availability was another. Still, Moderna and Pfizer, along with BionNTech came out victorious with their Covid jabs in 2020, falling behind was Novavax Inc. (NVAX). While the two giants were winning authorizations for their vaccines, NVAX was still dealing with a formal submission. However, the company is soon to announce the all-important FDA authorization of its Nuvaxovid after the review ends in early June. But even if the company wins the authorization, there are many concerns that have investors and experts worried.
NVAX Stock's Losses
Since hitting its pandemic high of $331.68 a share, NVAX has retraced over 80%. Down more than 67% year to date, the stock is currently valued at a price of $47.00 per share as of May 26. In this week alone, the stock lost nearly 19.5% as investors weigh in on its future. Much of this downfall comes from management's delays in the filings and applications regarding the vaccine, while negative investor sentiment also played a role this year.
While this severely beaten-down price of the Covid vaccine maker does bring a good entry point, there are many factors to analyze before making the decision. Even if the company achieved the much-awaited authorization for its vaccine, would it be much meaningful at all now that the market is highly saturated? Let's have a look at what it is and what it might be!
NVAX's Covid-19 Vaccine
The company's covid-19 vaccine NVX-CoV2373 is known as Nuvaxovid. Unlike the mRNA vaccines dominantly present in the U.S., Nuvaxovid is a protein-based vaccine. So far, the vaccine has shown great potential with all of its three pivotal, large-scale studies proving its efficacy. Last year, two trials in adults in the U.S., Mexico, and the U.K. yielded vaccine efficacies of 89.7% and 90.4%, respectively. The third trial in adolescents resulted in a vaccine efficacy of 80%, which was announced earlier this year. This makes NVAX the third drug maker to reach the threshold of 90% VE in Covid-19 trials. This also signals green to the possibility of its vaccines becoming a standard for initial inoculations and booster shots.  
Saturated Market
An FDA advisory committee is set to review NVAX's Emergency Use Authorization (EUA) on June 7, 2022. Even if it is approved, this will still be way behind its rivals and a huge number of dollars short. According to the company, management is confident that the vaccines will receive authorization due to their strong efficacy results.
Following its anticipated approval, the Covid jab will enter the U.S. market when 76% of adults are already fully vaccinated and the market is shared by giants like Pfizer and Moderna. Luckily for NVAX, Johnson & Johnson's vaccine use was brought down by the FDA recently. However, the over-saturated market situation does not leave the company's vaccine with much space.
New Variants
Another downside to entering the market at this point is the fact that the FDA is considering redesigning Covid shots to target its mutations. All the existing vaccines target the spike protein of the original strain, while today many new variants like delta and omicron are roaming-free. With the emergence of these new variants, the existing Covid vaccines have become less effective. Although the company is conducting studies on its modified vaccine in omicron, it is still a long way.
The Upside
On the upside, there are people who prefer protein-based vaccines over the recently accepted mRNA ones. Protein-based vaccines are based on older and potentially more trusted technology than mRNA jabs. There is even a debate going on regarding the downsides of mRNA vaccines. Moreover, the possibility of NVAX's vaccine being a booster dose and approved for ages 12-17 also exists. This would help the company tap into the huge unmet need for a Covid shot for children in the U.S. More importantly, the company is projecting a full-year sales forecast of $4 billion to $5 billion.
Financial Overview
For Q1 2022, NVAX reported revenue of $704 million, which shot up by over 57% YOY. This included $586 million in sales of the Covid vaccine. However, the sales still fell short of the consensus estimate of $845 million.
As a commercial-stage company, NVAX posted its first profitability with earnings of $203 million or $2.56 per diluted share. Much better than the loss of $233 million ($2.56/share) a year ago, the earnings still were below the expected $2.69 per share.
The company is said to have delivered just 42 million doses of the Covid vaccines in Q1 while it maintains its full-year expectations of $4-$5 billion in sales. Management said demand is expected to pick up in Q2, while it still has to receive an order from Gavi. The advance purchase agreement with Gavi calls for the company to deliver 350 million doses. The company's doses commitments are as below: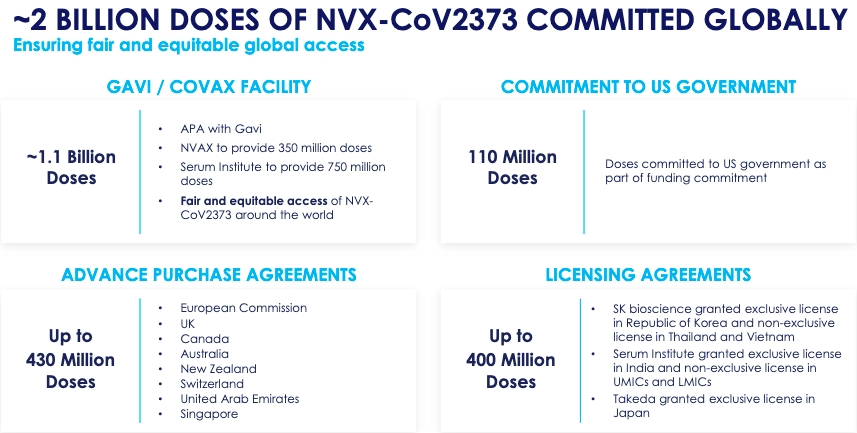 Future Possibility
While the company might not be able to beat advanced rivals Pfizer and Moderna right now, there's huge potential and a big possibility in the future. A tremendous lift to the company can come from the fact that it is working on a combined coronavirus-flu candidate. With its coronavirus and flu candidates each having completed phase 3 trials with primary endpoints, NVAX is most likely to get to market first in this. The phase 2 trial of the combined candidate is set to be launched by the end of this year, while Phase 1 reported positive results. Moderna, which is also developing a combined candidate, is still in the preclinical stage. On top of it, the company does have a cash stockpile of $1.6 billion, more than enough to fund all its clinical programs.
According to experts, Covid-19 is here to stay and in the future people would most likely be getting annual coronavirus shots along with flu shots. Thus, people would most definitely choose one combined shot over two separate ones.
Conclusion
While headwinds to the company exist due to lagging behind its advanced rivals, NVAX still has much potential for growth due to a number of reasons. Even if the current market is saturated, its protein-based technology does give it a little edge and its potential vaccine authorization for children opens a huge opportunity. A huge plus to the company becoming a leader in the future comes from its combined flu and coronavirus candidate, which has shown much potential so far. Hence, maybe the stock might not be the best buy right now, the future holds great prospects.