As the world continues its push with advanced technologies and smart solutions, the realm of AI continues to prove as being a domain that will dominate the mainstream in the future. The utility it offers, as well as the core advantages it promises, have already been groundbreaking at present, throughout a range of industries and operational areas. Healthcare, education, supply chains, production, entertainment, and security are just some of the names that are beginning to see groundbreaking shifts through the incorporation of artificial intelligence. After looking at this enormous growth of artificial intelligence, now investors have also started looking toward AI stocks.
Given this compelling trend, some of the largest corporate powerhouses have been diversifying their revenue streams and striving to make use of this promising and revolutionary domain. In 2021, investments in AI grew by over 100% since the last year, reaching almost $94 billion. As AI continues to expand into different areas, a democratization of the technology will also inevitably take place, allowing small and medium-sized businesses to profit too. In this list, we shed the spotlight on the top  AI stocks that will allow investors an opportunity to cash in on the rapid AI craze. The stocks presented here are the best AI names in the market for the final quarter of 2022.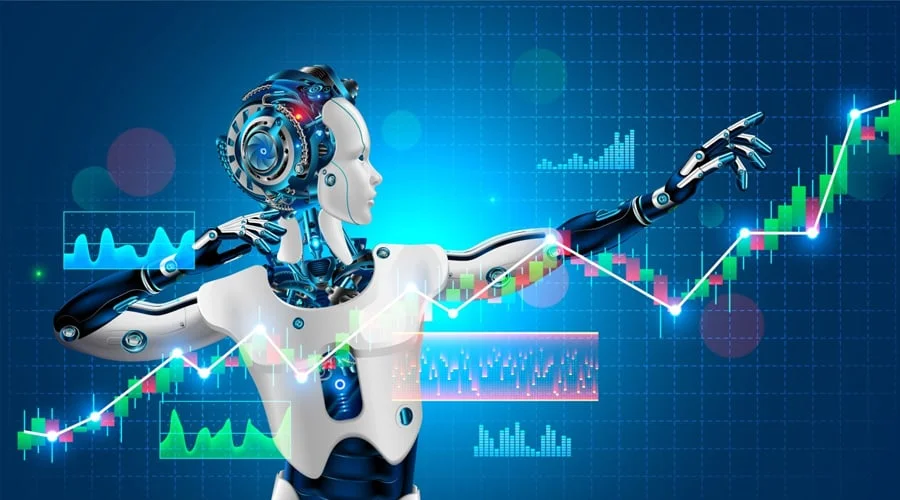 Berkshire Grey Inc.
To start off our list, we begin with Berkshire Grey Inc., (NASDAQ: BGRY) an AI-assisted robotics company. In addition to being a star robotics solutions player, Berkshire Grey also holds expertise in supply chain automation and operates primarily in the US and in Japan. BGRY capitalizes on the robotics niche through an AI-based system that allows for the automation of industrial manual processes such as picking, sortation, and movement.
Berkshire Grey is further supported by a number of significant tailwinds, such as growing customer demand for fast delivery in ecommerce, strong competitive pressures, as well as a human resource scarcity for labor-intensive and manual processes, especially in the developed regions. The company has positioned itself ideally to capture this growing market opportunity, which is estimated to exceed $280 billion across enterprise verticals. By doing so, BGRY has managed to achieve a compound annual growth rate of 12%. In just the last quarter, Berkshire Grey saw its quarterly revenue balloon from $4.5 million to $23.4 million, which amounts to year-on-year growth of an incredible 420%.
The company's top clients include Walmart, Target, and FedEx, each of which allocates hefty resources to capital expenditure, which is annually increased. Given its positioning and stellar financials, BGRY is sure to rise to the top among definitive AI players.
Microsoft Corporation
The second stock on our list is the software kingpin, Microsoft Corporation (NASDAQ: MSFT). Microsoft, at this point, is a household name, given its leadership in the operating software domain. Its incredible size and financial strength give it a core advantage in terms of extending its reach into the AI space. The company's wider strategy to bring Artificial Intelligence as a service, also labeled A.I.A.A.S, has the potential to redefine the wider AI services market, just like Windows did with operating systems. This approach seeks to make AI tools more accessible to non-programmers and individuals without a technical background in the field, under Microsoft packages. This could potentially redefine a number of sectors such as healthcare, education, retail, telecommunication, and others.
The leading Microsoft project in light of its becoming an AI leader is Azure Cognitive Services, which is a family of AI packages that can be integrated into applied program interfaces. Microsoft is not an ordinary stock with exposure to the dynamic realm of AI, but rather is one that will redefine the rules of the game. With almost $14 billion in cash reported in its latest balance sheet, as well as short-term, liquid investments amounting to over $90 billion, the company stands highly capable of executing its ambitious strategy. Microsoft, therefore, is one of the best names to consider for those wanting to hold a robust stock of a company that can spearhead its AI strategy in the short term.
Snowflake Inc.
Moving on, we take a look at the cloud-based data platform provider, Snowflake Inc., (NASDAQ: SNOW) a US-based multinational company. Snowflake's data platform was built from the ground up with the aim of supporting AI processes and machine learning. Through this, it holds a competitive market advantage of conducting a lightning-fast analysis of unstructured data, through the use of sensor technology.
Taking a look at financial performance reveals how impressive Snowflake's market performance really is, given its unique technology. In its most recent quarterly results, it reported a revenue figure of $497 million, against analyst expectations of $467 million, which indicates a year-on-year jump of a whopping 83%.
In addition to such impressive top-line growth, which Snowflake has been reporting for the last few years, its customer monetization is what makes it such a brilliant stock for investors. Customer monetization refers to the increased spending by customers in subsequent reporting periods. In its most recent quarter, SNOW reported a net revenue retention rate of 171%, highlighting increased spending by clients as they scale up their operations. This makes the Snowflake business model one that is highly sustainable. For this reason, we here at Stocks Telegraph are confident that SNOW is a great stock for those seeking to ride an AI-led growth wave.
C3.ai Inc.
Next up, at number four on our list is the AI enterprise software company, C3.ai Inc., (NYSE: AI). C3.ai is a company with an international presence, which is valued by the market at $1.6 billion.
C3.ai employs artificial intelligence in order to conduct predictive modeling which can be employed in a wide array of different functions such as fraud detection, as well as determining which aircraft requires replacement. C3 is an enterprise-oriented software company with a business model that inherently holds a unique approach. Instead of developing standardized products or software packages, the company works with industry leaders in order to deliver industry-specific products to ensure the maximization of value delivery. The company refers to this model as its partner ecosystem, which reflects almost two-thirds of its reported revenue. Given this sustainable business approach, C3 will continue to report stellar growth as AI continues to transform different industries across the globe.
C3 had seen its customer count climb by almost 50% from the financial year end of 2021 to 2022. Topline growth during this period amounted to 38%, which put the company's annual sales figure at $72 million.
Despite such strong growth and a robust business model, C3 is down nearly 70% since a year ago. This spells a great entry point for investors looking to rush a cheap AI stock that is highly likely to soar high.
ZoomInfo Technologies Inc.
The final stock on our list is ZoomInfo Technologies Inc. (NASDAQ: ZI). ZoomInfo is essentially a B2B marketing company that provides both market intelligence to its clients, as well as an engagement platform. Its core competitive edge comes through its use of AI, which allows it to ensure smart solutions and maximized efficiency for its clients.
The company, after its consolidation of the wider industry, stands as a clear market leader with no close competition at its tail. This gives it ample pricing power which yields it a gross margin of 80%, as per its recent quarterly report. Through its innovative AI applications and a forward-looking strategy, ZoomInfo's business model is one with a full orientation toward growth. The company's B2B contact database results in rapid growth which each additional deal closed.
The company has set its guidance for this year at 45% growth at a $1.1 billion run rate. Free cash flows during this period are likely to climb by 45% at the most conservative estimates. In addition to its growing customer count, ZoomInfo also boasts some of the most innovative clients from different industries in its partnership ecosystem, such as Uber, Shopify, Zoom, and DocuSign, among a wide range of others.
ZoomInfo is a rising star that faces minimal competitive threats, given the wide moat it has established through consolidation. This AI stock is a screaming buy for anyone seeking an AI player rising to the top.
Conclusion
AI is, by every market analyst's estimation, proving to be a revolutionary game-changer for a wide array of different industries. This opportunity is not something present only in the distant future, but is already prevalent in different forms throughout different areas, resulting in groundbreaking results. For this reason, investors would do well to consider immediate investment in the most promising stocks that hold substantial exposure to AI. The AI stocks listed in this list are each highly promising and are very likely to be flying in the final quarter of 2022.